"The world is the true classroom. The most rewarding and important type of learning is through experience, seeing something with our own eyes." Jack Hanna
Our school has a global influence because we engage the world. We have become an institution with broad impact by promoting programs that reach out to address our societal needs across the globe. Our Office for Global Programs, led by Drs. Pat Conrad and Paulina Zielinska, was established to promote, facilitate and support global programs that align with our mission and enhance discovery, while educating future generations of global health leaders. Through our people and programs, ample evidence is accumulating that we are accomplishing these goals.
Just within the past year, joint conferences with our international partners have been supported that link our faculty, staff, and students to academic partners in multiple countries. A recent example included a workshop between the University of Sydney and UC Davis held September 17th to 19th at Lake Tahoe. Through faculty discussions and brainstorming, these types of conferences help align and stimulate ideas that go beyond a single institution and expand educational opportunities for our students.
In a similar fashion, a joint conference this past summer brought UC Davis School of Veterinary Medicine faculty to University College Dublin to promote one health approaches to address issues at the interface of animals, people, and the environment. We are active participants in a new U.S.-Pakistan Center for Advanced Studies in Agriculture and Food Security, funded by the U.S. Agency for International Development to bring together faculty members and graduate students from both countries, and provide support to update curriculum resources at Pakistan's University of Agriculture, Faisalabad.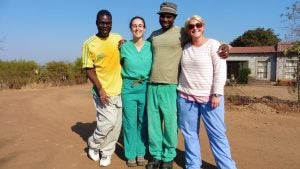 In contrast to our current political environment, global leaders in education are increasingly writing about "global competencies" as a measure of the effectiveness of educational programs. Our students benefit in multiple ways through our global programs, including learning multicultural competencies so important for them to navigate in our interconnected world. Through our Office of Global Programs, we have recently supported 30 veterinary students to extend their learning or conduct research in a variety of countries including: Canada, Scotland, Italy, United Kingdom, Ethiopia, Uganda, Rwanda, South Africa, Malaysia, Sri Lanka, Thailand, Australia, New Zealand, Mexico, Costa Rica, Nicaragua and Guatemala.
I was privileged recently to attend our International Summer Externship Presentation event, hosted by the Office for Global Programs. Along with over 100 other attendees, I learned about the international externship program through engaging videos that the students produced to highlight their educational and cultural experiences.  Global One Health Day will be celebrated November 3rd as groups from around the world, including our "Students in One Health," celebrate the benefits of transdisciplinary approaches in addressing global societal needs.
Graduate student research training and mentoring is an essential component of our school's offerings and is strengthened through our international students who bring unique talents and skills from around the world.   The school is the administrative home to four graduate groups; Comparative Pathology, Epidemiology, Immunology and Preventative Veterinary Medicine. In addition, SVM faculty participate in a large number of graduate programs administered through the UC Davis Office of Graduate Studies, ranging from Pharmacology and Toxicology, Neurosciences, Molecular, Cellular and Integrative Physiology, to Bioengineering and Genetics.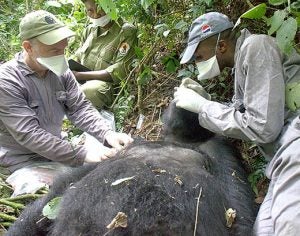 Similarly, our veterinary hospital plays a vital role in training veterinarians to become board-certified in a variety of clinical specialty disciplines. These individuals lead efforts to raise the standard of veterinary practice around the world. The veterinary hospital's house officer program, which offers residencies, internships and fellowships, is the largest of its kind at any veterinary hospital in the country, and is known the world over. The program routinely attracts candidates from all corners of the globe. Its current makeup consists of veterinarians from 19 foreign countries (on six continents) and 21 states.  Since 2010, this program has drawn participants from 32 countries and 39 states, as well as the District of Columbia and Puerto Rico.
Our school must continue to seek out opportunities for our students to engage and explore the world as they become the leaders of tomorrow. As they experience the global classroom through their own eyes, they will bring new vision to their work and be better citizens in our society.