These Perspectives are drawn from the weekly updates provided by Dean Lairmore to the UC Davis School of Veterinary Medicine community during the coronavirus crisis.
April 6
As we enter another week, I want to thank you for your continued flexibility and patience. The disruptions and tragic consequences of the pandemic to our society and the global community are unprecedented. We are learning daily how to interact and perform our jobs in new ways to protect our safety, yet continue to move forward.
I am inspired by how the academic transition is happening. We are adjusting our educational delivery to meet the requirements of our students to become trained veterinary professionals. In the past week, we saw 30 different hands-on clinical rotations reimagined into distance learning 'virtual' training experiences. In addition, our staff have completed 149 clinical skills training kits for our third-year students to use at home, and supported new lecture and exam delivery options.
Our Office of Research and Graduate Studies is proactively assisting graduate students and their advisors to safety complete our student's research projects and fulfill their educational degree requirements.
These quick adjustments are a testament to our faculty, who have worked hard to maintain quality while shifting formats, our staff, who are dedicated to making it happen, and our students, who have remained positive and engaged.
We will never think the same way again about how we teach and learn, and once we return to normal, we will undoubtedly take lessons from this experience to make our curriculum and methodologies even stronger.
We are striving to bring the latest COVID-19 information through regular updates; this week we have two coronavirus informational events:
On Thursday from 9-10:30 a.m., the school and One Health Institute are co-hosting a town hall highlighting efforts on the frontlines of the COVID-19 response and future pandemic prevention around the world. There will be time for questions and discussion. You should have received an invite to this internal virtual event last Thursday. Spots are limited, so reserve yours now.
The CE office created an event for veterinarians and veterinary technicians on Wednesday featuring our chief medical officer, Dr. Jane Sykes. Called Pets, SARS-CoV2 and COVID-19: What All Veterinarians Need to Know, the webinar filled up quickly, which speaks to the demand and relevance of our knowledge on this topic. Given the interest in this event, we are exploring additional webinars in the future.
I was pleased to see the letter from President Napolitano, Chancellor May and the rest of the chancellors that they are committed to keeping the workforce employed through the end of the fiscal year, which I personally hope will get us through the most difficult portion of this crisis. I am grateful that paid emergency leave has already been granted, but I know that for some members of the community there is concern that it may not be enough. We are not the only unit in UC Davis—or all of UC—facing this, and I know that the discussion regarding the welfare of our personnel remains an ongoing concern at the highest levels.
The hospital has extended its emergency-and-critical-care-only service at least through the end of the month, in keeping with the Yolo County Shelter-in-Place Order extension. I applaud our hospital personnel for their service providing life-saving care to animals. Safety at the hospital is being continually evaluated, and procedures are being updated as needed.
Our research is at the forefront of the pandemic and continues to make an impact, including genomic research from Bart Weimer and graduate student DJ Darwin R. Bandoy of 150 SARS-CoV-2 strains. Their research could help public authorities target areas about to experience an upsurge of infection.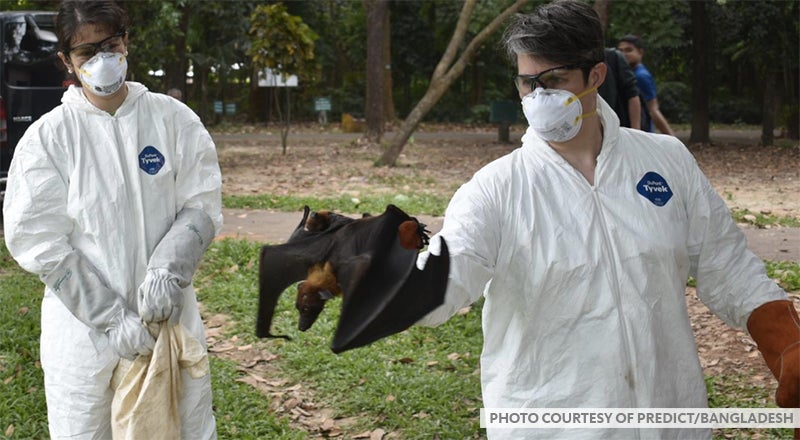 In addition, the One Health Institute received a $2.26 million extension of the Predict program to assist with COVID-19 pandemic emergency response. Across the school, our researchers and clinician-scientists are seeking new collaborations to understand and combat the effects of this devastating viral disease.
We are consulting with campus leaders on all major public events and expect news from the university on commencement decisions soon.
Thank you again for your dedication. These are challenging times, but if we continue to work together we will get through these troubled events to see a brighter future.
April 13
As we begin what is essentially our second month of the COVID-19 pandemic response, all of us are adjusting to our new reality. We see hope for California where early public health interventions have "flattened the curve" and have reduced the number of infections in our region. Our optimism is counterbalanced by cautious planning for life after COVID-19. I am grateful to our leadership for responding early, and applaud you all for continuing to do your part to fulfill our mission goals despite extensive alterations to our lives at work and home.
Last week, we announced changes to our most joyous annual event—commencement—to an online format, with an in-person celebration to be scheduled for later in the year. All UC Davis commencements face similar changes, and our faculty and staff teams are actively organizing with the input from our Class of 2020 student leaders to create an event that uniquely celebrates their accomplishments. I am very grateful to our Class of 2020 for working with us—both directly through the class presidents and indirectly through an idea poll—to shape events to be meaningful, as well as memorable.
I want to take a moment to recognize and celebrate the faculty and staff who are on the frontlines, interacting directly with clients and each other. I know that the utmost attention is being paid to safety, but it is still stressful to work in these circumstances. So, thank you to everyone who is keeping our essential services running, including our custodians, veterinary technicians, clinicians, and others. We deeply appreciate your dedication and service.
The school was very active last week. We had an online CE event last Wednesday featuring Dr. Jane Sykes called "Pets, SARS-CoV2 and COVID-19: What All Veterinarians Need to Know."
In addition, we hosted a town hall event co-hosted by the One Health Institute that highlighted our COVID-19 research teams and their impactful response to the pandemic. More than 400 of you attended the event, which demonstrated our unique understanding of the epidemiology of the pandemic and how our programs are helping organize on campus and across the globe to understand the ecology and public health risks associated with COVID-19 and other zoonotic diseases.
Our research related to the pandemic is receiving worldwide attention. Dr. Christine Kreuder-Johnson and colleagues' recent report on how the relationship between increased human-wildlife interactions can be a cause of pandemics received over 400 media hits in the hour after it was released. Outlets to cover the story include The Guardian, Bloomberg (reprinted in Time Magazine), Washington Post, The Daily Mail, BBC News, Newsweek, ABC News, among others.
I want to close with a note about Give Day, the university's annual event that will be taking place this Friday and Saturday. We have a number of challenges, including two supporting the school's hardship fund by Donna and me and by UC Davis alumna Sue Mayer. If you have the capacity to support our students or one of our programs that continues to do good during these challenging times, the community will be grateful to you for giving.
April 20
Recently, it seems like we are constantly working to meet the challenges that this pandemic is putting us through, but last week it felt like we were all able to pause, look around, and express thanks to each other.
Donna and I felt grateful on Saturday for all the generosity shown within our community for supporting our students and programs through Give Day. We appreciated the donations that went to the Hardship Fund, a new fund to support veterinary students experiencing unexpected financial hardships that Donna and I used as our giving challenge. Along with that fund, the school raised money for the Compassionate Care Fund, the Veterinary Medical Center campaign, the Donald G. Low/AVMA Practitioner Fellowship, and other areas. I am grateful to the other people and organizations who sponsored challenges and to everyone who donated.
If you didn't get a chance to read it on Give Day, I encourage you to read "Martha's Story," written by Stephanie Szmyd, who sponsored a Veterinary Emergency Response Team (VERT) challenge. You'll be inspired by Martha and Stephanie (but keep your tissues nearby).
This Friday at noon, we are holding the first of our Instagram "Ask Me Anything" events that are oriented toward the animal-loving general public. Drs. Jane Sykes and Brian Bird will be answering your questions about pets, wildlife and COVID-19. Submit your questions on Instagram between Tuesday, April 21 at noon and Wednesday, April 22 at noon and tune in on Friday.
This past week, our Class of 2024 has officially been affirmed, and 150 of the best and brightest minds from over 1,000 applicants will join our SVM family in August.
Our virtual commencement ceremony is shaping up as we continue to work with the Class of 2020 to build a meaningful event. We will have short presentations by the provost, me, guest speaker Dr. Kim Dodd, and student speaker Ashley Keffler-Roa. Cesi Solari will sing the national anthem. I'm looking forward to seeing what else gets added to the ceremony!
You may have seen that in the midst of the pandemic, the Oiled Wildlife Care Network was mobilized to clean up an oil spill into the Cuyama River watershed that occurred from an oil tanker road accident. The network is back and has written about their experiences in their blog. Thank you to everyone who responded despite the additional hazard from the SARS-CoV-2 situation.
As I mentioned, there was a lot of gratitude last week, whether it was from students who thanked their professors and the staff for the work they put into the curriculum change, or from past patients and their people who sent a shout out to all the hospital personnel. I couldn't resist joining in.
I deeply appreciate your efforts during this difficult time. You can take comfort in knowing that your work is paying off in quality patient care, educational outcomes, essential public service and other ways. Let's continue to look for those transcendent moments in our daily lives. I'm proud to be associated with this school and all of you.
April 27
As we have observed the nation is eager to reopen and get back to business. Similarly, our people and programs are eager to get back to fulfilling our mission. We will be guided by State of California and Regional Public Health Guidelines, along with campus directives as we plan to resume our activities. Our faculty continue to engage in COVID-19 related research activities, such as the tracker that Professor Chris Barker created. The tracker illustrates that California has started to "flatten the curve," and that we are also national leaders in how few cases we've had as a total population. The state has followed the science in its decisions, which has paid off.
While I know that we are all feeling "COVID Fever," for everyone's sake we will continue to make scientifically informed decisions to ensure that we stay at the forefront of public safety. The hospital is one example of this—they have been continuously evaluating safety and service decisions and—like the medical center—are rolling out an increase in services, starting on May 4, and will be communicating with services this week about a proposed plan. I have full confidence that they will take all necessary precautions to ensure that this increase occurs safely for our personnel and clients.
Our veterinarians, research scientists, and staff have been very active in the national discussion regarding the pandemic. We've seen media hits from virtually every major news source, including the BBC, NPR, the Washington Post, the Wall Street Journal, ABC News, Smithsonian, and many, many others.
This epidemic has proven the importance of pandemic prevention, scientific research, and veterinarians' essential roles in it, but it has also validated the One Health approach itself. As Dr. Kreuder-Johnson's recent study shows, we are living in an increasingly interconnected world that requires holistic solutions for everyone's health. It's critical that veterinarians be given the platform to share their important knowledge and be influential in the discussions.
There has been a lot of concern recently of interspecies transmission of SARS-CoV-2, which flared again last week with news that two cats tested positive for COVID-19. These cases are rare, and there is no evidence that animals can transmit the virus to humans. Our coronavirus resources pagecontinues to be current with information for veterinarians and pet owners on the situation.
Livestock have pandemics, too, and the Western Institute for Food Safety and Security (WIFSS) announced last week that it has been awarded a $560k grant from the USDA National Animal Disease Preparedness and Response Program (NADPRP) to develop a collaborative partnership between the university, federal agencies, state agencies, and animal agriculture industry to increase preparedness on dairy farms and poultry raising facilities.
In addition, Dr. Patricia Pesavento was selected to receive a seed grant from the COVID-19 Research Accelerator Funding Track Program. This program, funded by contributions from Office of Research, the Provost, University of California Office of the President, and Veterinary Medicine, ensures that we have the resources to react quickly to this crisis while still maintaining scientific review and rigor.
I want to close today by thanking the Flying Needles Quilt Guild for making masks for our team at the hospital. The idea came from a guild member, Linda Kent, who happens to be Dr. Michael Kent's mother! She has previously donated quilted artwork that hangs in one of our clinical facilities. For this project, she recruited a group of 100 people in the guild to make cloth masks for our veterinary staff, as supplies of personal protective equipment nationwide become difficult to obtain. The guild routinely performs community service projects, such as help with hospice centers and aid during wildfire season. We thank them for helping to keep our team safe while they continue to care for the community's animals and families. It is another reminder how important a strong community is in times of crisis.