"Man never made any material as resilient as the human spirit."- Bernard Williams
As commencement season begins, my thoughts turn to our new graduates who will soon receive their DVM degree. Since the establishment of the school in 1948, we have been leaders in veterinary medicine by working to benefit the health of animals, people, and the environment in California and beyond. Our school, and its alumni, have shaped the field of veterinary medicine, from developing innovative education programs to discovering mechanisms of animal and human diseases. Our new graduates join this legacy.
The Class of 2018 came to us with an intense desire to gain the skills of this great profession and a passion to advance animal health. They are graduating into a world of great promise, and many challenges. Along the way, they have enriched the school's history with their own unique characteristics that bonded them to each other and to those that trained them. The many hours of study and exams, along with the countless time spent with their animal patients, are the tip of the iceberg of the journey it took to get them to this moment. Each of them has their own unique story to tell. Each of them has overcome barriers, faced doubt from others and in themselves, or may have endured heartbreaking events that changed their path along this voyage.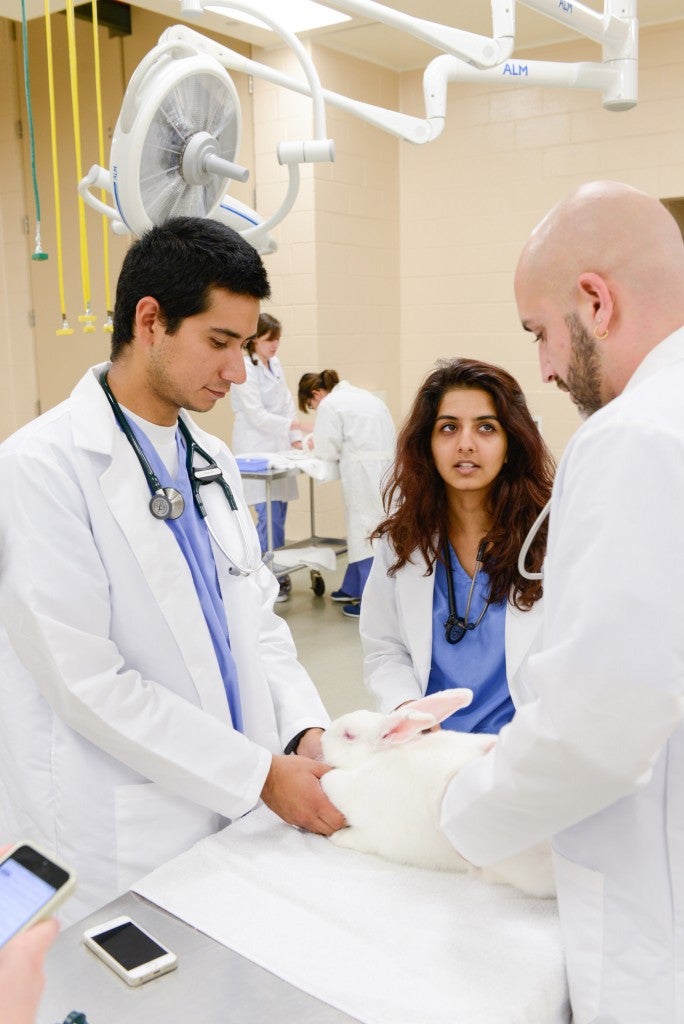 Importantly, they would not be at this touchstone along their career unless they possessed a trait that is critical to anyone's success in life—a characteristic as important as the knowledge learned in veterinary school. They had to be resilient in their own way. Resiliency is defined as the ability to recover from or adjust easily to misfortune or change.
How does one develop the ability to be resilient? Resilience is not an inherent trait that we are born with and must be learned through experience. It is intuitive that children need to build resilience. While we as adults have serious responsibilities, childhood is not stress-free. As they grow up, children face the challenges of learning, illness, and the complexities of social interactions. Depending on income and resources available, they may face hunger and food insecurity. When children learn to navigate these kinds of challenges, they build resilience and become problem solvers.
I faced such a challenge as a child. In fact, I almost died when I was three years old from encephalitis. I fell asleep one day and could not be awakened by my distraught parents. After rushing me to the hospital, the doctors found I had an extremely high body temperature and was soon in a coma that would eventually keep me hospitalized for weeks. When I recovered, I had to learn to walk and control my bowels all over again. After that trauma, my aunts for the rest of my life told me how lucky I was to be alive and how they helped take care of me during those dark times. This constant reminder left me with the impression that I was fortunate to be alive and that I needed to prove to the world why I had been given a second chance at life. These were my very first steps – literally and figuratively – toward becoming resilient.
Later in life as I faced other daunting trials, such as growing up with an alcoholic father and the uncertainty of being the first in my family to go to college, my inner voice was always there, telling me to push on and persevere, knowing that life has a way of working out. With subsequent difficult challenges that came my way in my career or life, I felt I could move forward after being knocked down.
Resiliency is not easy to quantify, as it is often only revealed when adversity comes into our lives, shattering our plans and perceptions of the future. Our new graduates may not be able to predict how they will react to stressful events that will inevitability will come into their lives at inopportune times. But what I constantly observe and love about veterinarians is their strong sense of resolve in the face of difficult tasks that confront them in their work, and in their personal lives. The Class of 2018 has endured many years of study, and shed sweat and tears to put themselves in a position to fulfill their dreams and join this great profession. They have already worked through difficult setbacks, and unfailingly got the job done, demonstrating their perseverance and passion. During this season of celebration, it is my hope that they relish in their success and believe in themselves.
I ask them to use their resiliency that is woven into the fabric that defines them, to guide them as they address the problems of our society and advance the health of animals, people, and our planet. They have proven their abilities in obtaining their DVM degree, now it is time for them to face their career and life challenges knowing that they have already accomplished a major milestone few have achieved.