"Gratitude is the inward feeling of kindness received. Thankfulness is the natural impulse to express that feeling. Thanksgiving is the following of that impulse." Henry Van Dyke
I am very thankful in this season of gratitude for all the people who comprise our school and come to work each day bringing their talent and passion to advance the health of animals, people and our planet. Our students' energy drives us to accomplish our educational mission, bringing light to our days as they inspire and challenge us. Our donors show their appreciation of our students through scholarships that help them reach their dreams of becoming veterinarians and scientists. I am proud of the many ways we have been able to increase financial aid and scholarship support, reducing our students' financial burden. These efforts have allowed us to hold the line on tuition and fees since 2011, which have only increased slightly in the past six years to keep pace with inflation.
This support for our students is rewarded back to us through their good deeds and accomplishments for our society. A recent example was Hannah Laurence, a third year veterinary student. Hannah was brave enough to take time out of her veterinary program to accept a prestigious Howard Hughes Medical Institute Fellowship to perform research at the University of Colorado. Her research data revealed a new mechanism of how Zika virus modifies cells to accomplish replication and was recently published in Science magazine. Her example reveals how rewarding it is for us to attract such talented students to our program and for the support they receive to advance their career opportunities.
I am also thankful for the teamwork on exhibit within our programs. An example was the talented team of faculty, staff, and students who recently participated in a national "Health and Wellness Summit" to share our experiences and best practices in creating a healthy environment for our students. Our Student Program's Career Center incorporates leadership and wellness with career development, serving as a model to provide life skills required for a productive professional career.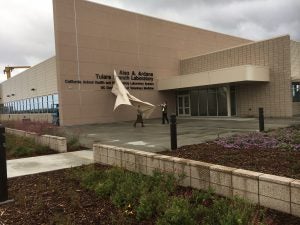 We recently celebrated the dedication of a new state-of-the-art diagnostic laboratory in Tulare named in honor of Dr. Alex Ardans, a visionary director of the California Animal Health and Food Safety Laboratory System for more than 20 years. We are grateful for the partnership our school has established with the California Department of Food and Agriculture that makes it possible for much needed facilities like the new Tulare Branch Laboratory to be built. The crowd of family members, government officials, faculty members, staff, and community leaders assembled at the event all had a chance to express their appreciation for Dr. Ardans' lifetime of dedication to his family and his work. At the end of the program, Dr. Ardans expressed his gratitude in his poignant and humble manner. Through misty eyes, he spoke from his heart about the origins of the branch laboratory and articulated his appreciation for all those present, deflecting attention away from his accomplishments.
The communities we serve, in turn, show us their appreciation in a variety of ways. Our Mercer Veterinary Clinic—a cooperative effort between multiple groups, including veterinary students, local volunteer veterinarians, undergraduate students, and community members—provides care to the pets of the homeless. These efforts are rewarded by the smiles from the clients they serve, who express their appreciation through kind words for those that keep their beloved animal family member healthy.
These are some of the many examples that illustrate how each day our staff, students, and faculty serve to advance the health of animals and people. They do not ask for accolades, but strive for excellence guided by a strong sense of purpose, passion and resolve. In this season of reflection, a gift we can all give to ourselves is to be thankful for the support and compassion we receive from our families, loved ones and colleagues. In these uncertain times, we should take a moment to take a deep breath and look around and reflect on what we have accomplished together and be thankful, embracing that inner feeling of kindness that gratitude brings.