"Ultimately, education in its real sense is the pursuit of truth. It is an endless journey through knowledge and enlightenment." A. P. J. Abdul Kalam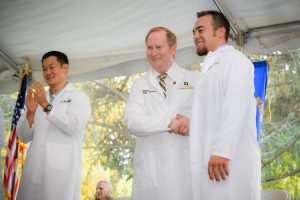 As we welcome a new class of veterinary students into our UC Davis family, I am struck by how fast summer progressed. Perhaps the fast and turbulent times we live in causes us to forget to pause and observe our place in time. The academic journey is one of constant renewal as each new class of students comes to us to learn the knowledge and skills that will launch them into the world. Our new class of veterinary students, like so many before them, comes to us with their own histories, talents, and dreams. Each of them has their own story to share with us. As we teach them, they will impact our lives, adding to our own tapestry of experiences.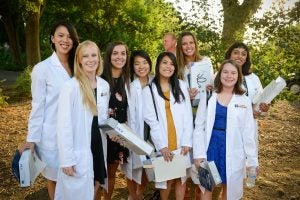 In the incoming class we have admitted an amazing group of students with a variety of life experiences. Some are experienced bikers, which will fit well with a community that houses the United States Bicycle Hall of Fame! One of the incoming students biked from Vancouver to San Diego. Many students have interest in wildlife. One student served in Ecuador in wildlife conservation; some have worked with non-human primates and bats. These students are drawn to us from our strong history in wildlife conservation, illustrated by the work done in the Karen C. Drayer Wildlife Health Center.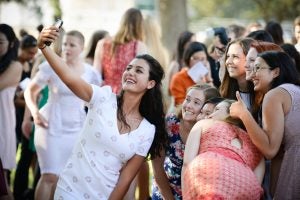 One of our new students worked as a professional photographer, which will no doubt be a useful skill as the Class of 2020 documents the many events that will transpire over the next four years. Our Doggy Dash 5 K event will have fresh runners in the new class, which includes a marathon runner and a triathlete! The new class will be competitive in intramural sports as one of their classmates played fast pitch softball for the Puerto Rico National Team. One student has a black belt in Aikido, which may be useful in our animal handling courses. We will be inducting one student who is a twin with younger siblings that are triplets; our geneticists are already seeking this student out to participate in a summer research project.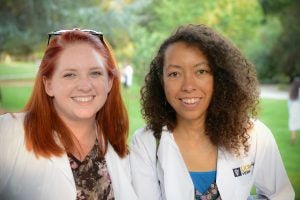 The new class will add greatly to our community, as many come to us with multicultural backgrounds and speak several languages. As is typical, we have many musicians in the new class, which we will hopefully be able to listen to during their journey with us.
As we reflect on our role in the lives of our new students, each of us has a role to play in forming their experiences, memories, and skills. Our faculty and staff members are world class in their fields and include exceptional teachers, clinicians, and scientists, who annually embrace the chance to teach the next generation of veterinarians. We provide a broad set of services and programs from outstanding academic support to leadership and wellness training to help our new students adjust to the rigors of veterinary school.
They will have unique opportunities as they enter a school that leads in research discoveries, providing the fundamental knowledge for future treatments of animals and people. They will find that we value not only individual research discovery, but strongly promote collaborative programs, centers, and institutes that support transdisciplinary teams to investigate and identify solutions to the world's most complex challenges.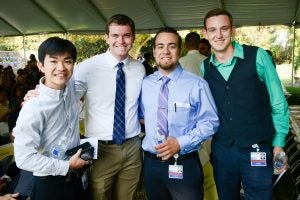 Our new student services and Scrubs buildings, opening in early January, 2017, will provide them a consolidated and interactive center of support and refreshment. As they become enlightened during their educational journey with us, their light will shine on us, adding to the collective history of our school. I encourage all of you to embrace our new students and share your story with them; they are our students today and our colleagues tomorrow. The journey is fleeting, but truth and enlightenment last forever.