"We cannot seek achievement for ourselves and forget about progress and prosperity for our community… Our ambitions must be broad enough to include the aspirations and needs of others, for their sakes and for our own." – Cesar Chavez
While the summer is in full swing, we will soon be welcoming our new veterinary student class of 2020. Our Academic and Student Programs teams are busy developing the orientation of these new students as they prepare for the week-long introduction referred to as "Prologue." From the very beginning, our new students will be welcomed into a diverse community of learners and will hear about our commitment to supporting an environment that supports diversity and inclusion. We strive from their first days with us to impress upon them our shared values and to set a tone for their education and their involvement in our UC Davis community.
Unfortunately, our community, like so many others across our nation, has been rocked by horrific acts of violence and social injustice. The actions of police shooting unarmed African American men and the resulting public outcry are painful reminders of how far our society still needs to go to fully realize social equality and mutual trust among our disenfranchised citizens and our law enforcement community. The hatred that resulted in the killing of police officers in Dallas and Louisiana illustrate again how fringe members of our society can be triggered into violence in the midst of social unrest. Worldwide terror events remind us how fragile life can be when hate, distrust and ignorance rule the actions of a few.
So how are we, within our own communities, to react in the face of these ongoing horrific events? I would suggest we actively engage with each other to understand and embrace our differences. Our campus leadership, faculty, staff and student groups will be developing events to allow civil dialogue and debate to occur as our larger community deals with societal events and the subsequent fallout. Within our school, we must renew our Principles of Community (http://occr.ucdavis.edu/poc/) to remind all of us of our commitment and obligation to create a vibrant environment of learning and discovery.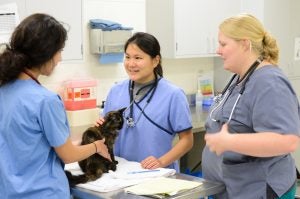 The Principles of Community, first written in 1990, are designed to promote inclusiveness and respect in the work and learning environments at UC Davis. These Principles have been refined over the years, and provide us a statement of values that is particularly important today. These values remind us that UC Davis is a diverse community comprised of individuals having many perspectives and identities. We all come from a multitude of backgrounds and experiences, with distinct needs and goals. The Principles of Community represent an inspiring and aspirational statement that symbolizes this commitment, and reflects the ideals we seek to uphold.
Our Principles affirm the dignity inherent in all of us, as we strive to maintain a climate of equity and justice demonstrated by respect for one another. This respect should be reflected in our daily work, whether we are faculty, staff or students. For these Principles to be real, those in positions of influence must demonstrate them to those we seek to teach. These Principles also uphold the right of freedom of expression within our community in civil discourse, a non-violent exchange in context to the highest standards of conduct and decency toward all. Importantly, the Principles reject all manifestations of discrimination in its many forms, recognizing we all have inherent bias based upon our backgrounds and environments from where we come. We should celebrate our differences – they are what has made our nation strong and are our foundation of social justice.
From the start, our students are asked to embrace our values of diversity and inclusion as a clear demonstration of the school's commitment to the Principles of Community.  If you have not viewed our students' statements about the meaning of these values, I would encourage you to listen to their voices and aspirations: https://youtu.be/fps5jFcrM2I  
Their heartfelt message reminds all of us that our values matter and our best defense against hate is to embrace our diversity and live by our principles.