"Start by doing what's necessary, then do what's possible, and suddenly you are doing the impossible."  — Saint Francis of Assisi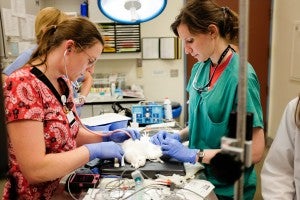 In doing our daily work we sometimes can feel overwhelmed by the pressures of our jobs, events in our lives, or the demands we place on ourselves. Our society, families, and our careers can seem to demand more from us than we are capable of delivering. For veterinarians this has been described in a variety of terms, including "compassion fatigue." Whether you are a graduate or veterinary student, staff or faculty member, or even a dean, we all may feel overwhelmed at times.
Our ability to be resilient during times of stress may be drained by things beyond our control, leading us to feel we are alone and our tasks ahead of us impossible to complete. In our school and university, we have many resources to support the mental health and wellness of our people. New efforts have been created to bring that support in public view to be shared for the benefit of all, including the new campaign, "Each Aggie Matters."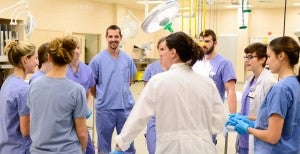 This new campaign brings together thousands of students, faculty, and staff at UC Davis in an open and affirming dialogue about mental health to create a campus that cares for all of us. In coming together to tell our stories we realize we are not the only one who has dealt with mental health issues. By being a voice for those less able to express their feelings we support each other and the entire community. Wellness and mental health are complementary subjects that must be taken seriously to maximize our ability to enjoy our work and our relationships.
By expressing our feelings and providing support for those experiencing stress in their lives, we are enriched in the process. In our school, in addition to our expanded counseling services, we have create new programs such as "Wake up for Wellness," a bi-monthly event to promote health and wellness, boost morale, and build a sense of community with our DVM students. This event is hosted by the Career, Leadership and Wellness Center and the veterinary student Health and Wellness Club. "Massage Day" every spring provides a much needed break for our students.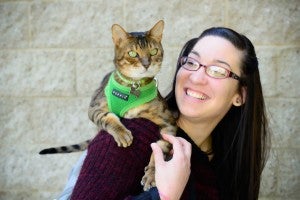 These new resources include "Just in Case" designed to provide UC Davis students seeking information about services regarding mental health. The UC Davis Work Life and Wellness Program provides programs, policies, referrals and education that enable employees and students to be effective at work, school and home.  These services include support for dependent care and family services, health and wellness, financial support, career flexibility and community involvement.
As a first generation student from a working class background, I can relate to those that have overcome hardships to reach their goals. My father was an alcoholic, who verbally and physically abused his children and could not break the cycle of dependency. I swore that I would not be like my father and it has guided my life from my earliest days. I am not immune from the stress of life, and must be in touch with my emotional and physical health needs to successfully do my job. My understanding of others comes from a sense of compassion, knowing that I was helped in my times of need by those that love and understand me.
If we are to reach our strategic goals as a school, we must do what is necessary to deal with what life brings to us, but we also must be inspired by our compassion and sense of discovery. We must move forward against the obstacles placed before us or the stress in our lives, knowing that we are a community with common goals and empathy for our animal patients and each other. By showing support for each other during our times of need, we are in turn strengthened from within, warming our hearts and soul. In coming together, I have faith that we will be successful in our journey and amazed at what we have accomplished together.