"A horse is the projection of peoples' dreams about themselves – strong, powerful, beautiful – and it has the capability of giving us escape from our mundane existence." –Pam Brown
Horses have played a key role in the history of California, as an early form of transportation and symbol of the West, to today's equine athletes thrilling us with their power and grace. Horses touch the human soul with their spirit and beauty. Watching the recent Breeder's Cup horse racing events held at the Del Mar Thoroughbred Club racetrack in San Diego, I marveled at the power and strength of the horses as they thundered down the track. Jockeys in their bright colored jerseys, in rhythm with their rides, flashing by to the roar of the crowd.
Our school has an extensive history of supporting equine health, allowing people that love horses to project their dreams through these majestic animals. A state-of-the-art equine drug testing laboratory to protect the horse racing industry was the dream of the late Kenneth L. Maddy, a California legislator, avid horseman and supporter of veterinary education. He would be proud to know that the Kenneth L. Maddy Equine Analytical Chemistry Laboratory, within the California Animal Health and Food Safety Laboratory System, was recently recognized as one of only five labs by the International Federation of Horseracing Authorities (IFHA) as an "IFHA Reference Laboratory."
Our school established the Center for Equine Health (CEH) in 1973 as an innovative program to enhance the understanding of equine health issues and provide practical approaches to improve equine health. The CEH has become the administrative and academic umbrella for most of the equine research conducted in our school. This week, Dr. Carrie Finno was named the new director of the center. She is a renowned expert who studies the pathophysiology and genetics of axonopathies of horses. She will lead efforts along with our outstanding faculty and staff to advance the health, welfare, performance and veterinary care of horses through research and education. These talented teams, combined with the equine clinical programs based in our veterinary hospital, create an unparalleled veterinary workforce to keep horses healthy.
Our national impact in equine veterinary medicine was on full display at the recent American Association of Equine Practitioners (AAEP) Convention in San Antonio, Texas. Our faculty presented their latest research findings in subjects ranging from infectious diseases, to trends in renal and respiratory diseases. Brittany Bazeley, one of our senior veterinary students, was one of only five individuals receiving the Merck Animal Health/AAEP Foundation scholarship for veterinary students dedicated to equine medicine and leadership.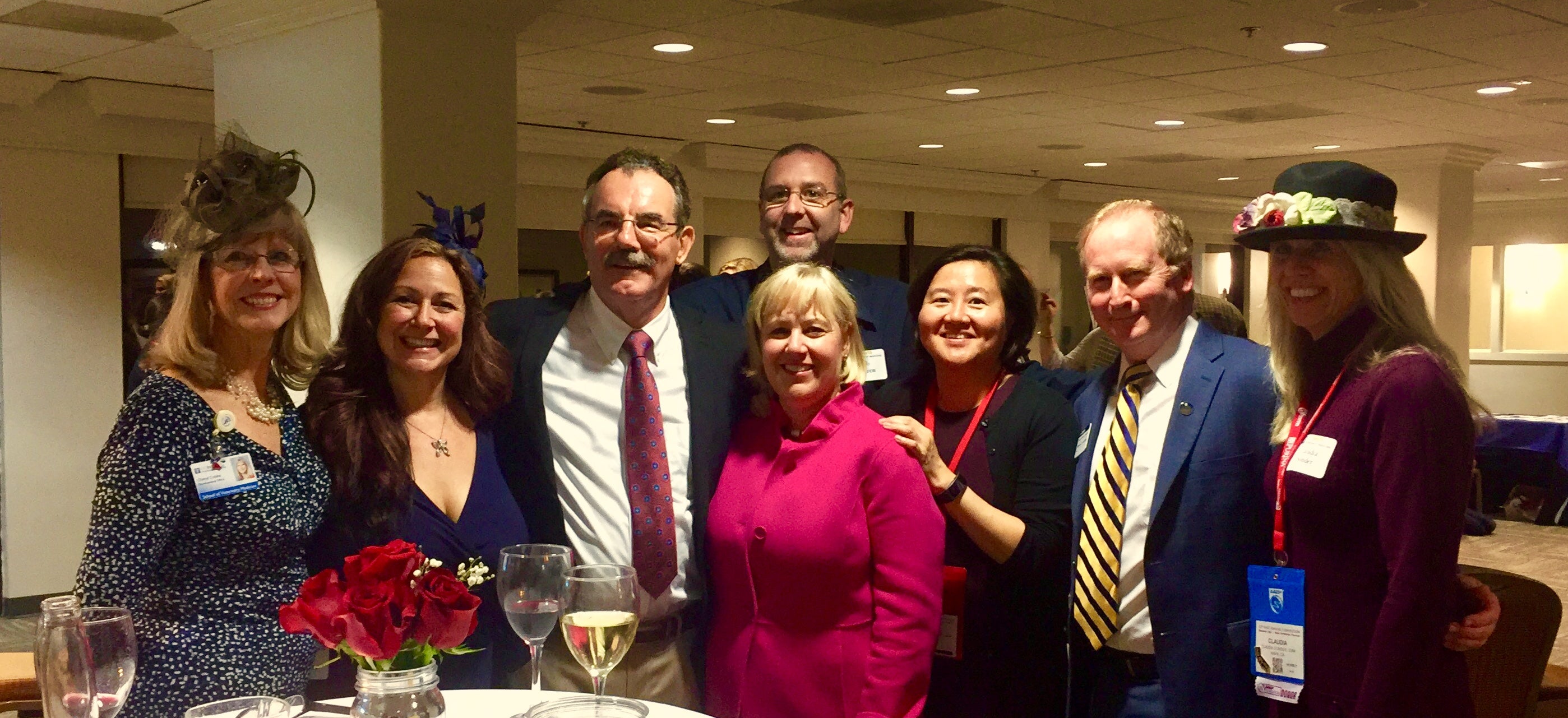 The convention allowed us an appropriate venue to honor the outstanding career of Dr. W. David Wilson, former veterinary hospital and CEH director, with a "Derby" themed send off at our alumni and friend reception.
In October, we publicly launched our vision to build a new Equine Performance Center (as part of the future Veterinary Medical Center) to transform our equine services with a new arena and gait analysis lab for lameness evaluations. With the opportunity to observe horses performing under saddle, our equine specialists will be able to better detect and treat underlying injuries or medical conditions. The new Equine Performance Center will be supported by advanced imaging within our proposed All Species Imaging Center to provide imaging modalities to enhance our ability to diagnose and treat our equine patients.
In all of these programs that enhance equine health, we are inspired by the power, splendor, and essence of horses. We are privileged caretakers of these enigmatic creatures that inspire our dreams, touch our emotions, and connect us to the essence of nature.